What is the future for Transition Cafe?
How can you help us?
Thank you to everyone who got in touch when we first announced our Transition Cafe building was to be demolished. This demonstrates that there is support for the cafe and that it's a hub in our community, drawing people together. It was lovely to hear from so many people about what the cafe means to you.
The Chimney's Link road planning application consultation process has been extended and responses are invited until Friday 22nd September. Please see the Update section on this page for more information.
Please keep coming to the cafe! The cafe will remain open until Friday 3rd November and we are planning a farewell event, date and details TBC.
If you have a building in Fishguard & Goodwick that might be suitable for a surplus food project and/or office space, or if you are part of a community group that would like to work with us, please contact us or pop into the cafe for a chat.
All support gratefully received!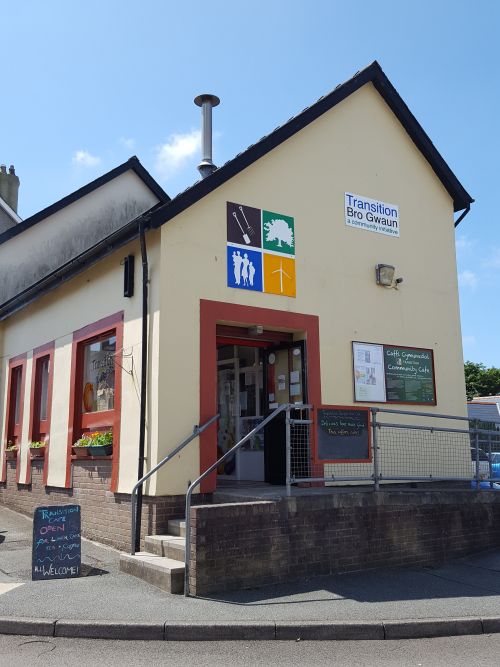 Latest update!
SEPTEMBER 2017 – TBG's response paper to the consultation process for the Chimney's Link road. Pembrokeshire County Council's consultation is open until 22nd September. If you would like to respond, the planning application is available here (reference number 17/0422/PA) and you can add your comments by clicking on the link 'Comments on this application' and uploading your comments document. Please ensure all comments relate to one or more of the following, for them to be considered:
 The design of any building [road] and how it relates to neighbouring properties.
 Access arrangements and the implications for traffic and parking.
 Amenity issues, such as noise or other intrusive activity and loss of privacy.
Transition Cafe is looking for a new home
In late 2016 we were informed that the Transition Cafe building was due to be demolished as part of the new road development, our position paper from December 2016 is available here. We do not oppose the road scheme as it is much need in Fishguard, we support the plan to make the town centre more accessible for pedestrians and wheelchair users.
We have had discussions with other groups to find a new space to house Transition Cafe. Nowhere is available at present and we are continuing our search. Pembrokeshire County Council have told us that the building will be demolished in December 2017.
What is the future for Transition Bro Gwaun?
Transition Bro Gwaun are involved with a number of projects, detailed on this website. Many of these can continue without the cafe building, although we will still need office space for some project work. The Surplus Food Project is developing and we have recently secured funding for a one-year outreach project, Make a Meal of It, focused on reducing household food waste across Pembrokeshire. We see that household food waste is a considerable area of concern, highlighted by a recent WRAP report which found that half of food waste generated in the UK comes from our homes.
Whilst we are sad and disappointed to be loosing the vital community hub that Transition Cafe has grown into, we will continue with all our project work even if we don't find premises to move to immediately. If you have suitable space available in Fishguard, or know someone who does, please contact us.