Concept
Transition Bro Gwaun (TBG) aims to realise the first community owned/led tidal flow project in Wales. The proposal would consist of a single device or a small array of tidal turbines deployed off the coastline of Fishguard and Goodwick. This supports TBG's aims to mitigate the community's impact on Climate Change providing sustainable and secure energy, whilst also bringing financial benefits for both local investors and community initiatives.
Development of a community tidal flow device will be an exemplar of best practice and provide a working demonstration of how tidal technology can deliver not only environmental benefit but wider community benefits too. It will provide a blueprint for other communities across our coastline to utilise marine energy as a resource for future resilience.
Timescale
The timescale for the project depends on three key external factors:
Identification of a suitable tidal device/s with market readiness;
This impacts on the seabed leasing options, as three devices need to be selected at an early stage in order to proceed with the application.
The environmental impact assessment linked to the marine licensing
This is a new and emerging market; historically the few devices that have been successfully deployed have been pilot projects with extensive timeframes. Based on a maturing market, the project is currently projected at approximately three to five years. Other factors such as the scale of the array and the required infrastructure i.e. grid connection / storage etc, may also impact on the timeframe.
Storage and Local Energy Systems
Opportunities will be sought to engage with others on local energy and storage networks. It is important to address the issue of grid network links or look to other options such as production of hydrogen for the Fishguard train (Arriva) or ferry. Initial contacts have taken place with Birmingham University who are specialists in this area, and also train franchisees who are looking to securing the train line services from Fishguard for the next 15 years.
A fact finding visit will be an opportunity to learn and develop this area of the project. A visit could take place to Copenhagen, where there is a developed network, or Levenmouth in Scotland, a community initiative which is leading the way in hydrogen storage systems.
Funding
TBG have secured funding from Pembrokeshire's Sustainable Development Fund and the LEADER programme.
This funding supports a part time development officer, and administrator/support worker. This will enable the community to lead an identified wide partnership, and secure; funding for further technical and environmental studies; the seabed lease; marine licence; and latterly accumulate community capital in the project.
LEADER will also resource fact finding missions, developing wider partnerships and gaining knowledge by visiting sites which are further forward in this new market or have successfully installed devices.
Partner websites
The Welsh Government's Local Energy programme, run by the Energy Saving Trust (EST), provides financial and technical support to help social enterprises and SMEs across Wales to develop their own renewable energy schemes.
Marine Energy Pembrokeshire is a partnership between technology developers, the supply chain, academia and the public sector working together to establish Pembrokeshire as a "centre of excellence" for sustainable marine energy generation.
Renew Wales supports community based action on climate change across Wales.
SEACAMS is a new development to integrate research and business opportunities in the marine sector in Wales. A partnership between Bangor, Swansea and Aberystwyth Universities, with a wide range of expertise covering all areas of marine science, ranging from marine biology to marine physics.
Coastal Energy Event
This month we are inviting community organisations to a free one day Coastal Energy event at the Fishguard Bay Hotel on March 22nd. The event is being hosted in partnership with Renew Wales, a project that supports community based action on climate change across Wales, and aims to highlight the opportunities presented to communities by local energy.
Keynote speaker Jennifer Pride, Welsh Government's Head of Renewable Energy, will be kicking off the morning session, followed by a case study via Skype from Scotland and a panel discussion. TBG will also be presenting information about their new community tidal energy project funded by Arwain Sir Benfro's LEADER fund and the Pembrokeshire Coast National Park Authority's Sustainable Development Fund.
The afternoon session will consist of a variety of energy-themed workshops from providers including, Cadwyn Clwyd, Cilgwyn Community, Sea Trust, Marine  Space and Swansea Bay City Region representatives.  There will be plenty of opportunities to network and a session to discuss any energy project ideas.
TBG's Tidal Energy Project Co-ordinator, Jane N O'Brien, said: "Come and find out about a range of exciting community initiatives, developing local energy systems, partnership working and a mix of storage and energy supply options. We want to show groups how they can make their communities more resilient with local cheaper and clean fuel sources. We'll be providing examples of how communities are achieving this using hydrogen, fuel cells, wind and solar technologies and transport including electric cars. Attendees can book a morning and an afternoon ticket or, if short of time, may opt to attend the morning but not the afternoon – or vice versa."
Exhibitors from relevant organisations will be on hand to answer your questions, including funders, community energy groups and commercial partners.
Booking is essential so to book your free place click on the poster, or if your organisation would like a stand at the event, please contact tbgtidal@gmail.com.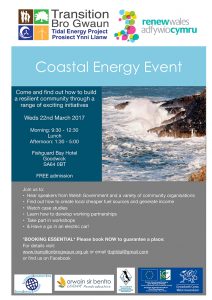 Partner Launch Meeting
The project concept has been developed over a number of years but is still in its early stages, however with funding secured a partnership launch took place on 24th November, 2016. This exciting venture is supported by a number of key partners including Local Energy, EST's community renewable programme, Marine Energy Wales (also Marine Energy Pembrokeshire), Renew Wales and SEACAMS based at Bangor, Aberystwyth and Swansea Universities.