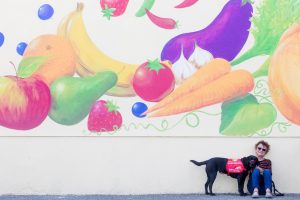 Elenor came to an event at Transition Café about 18 months ago and stayed to help with the washing up.
"It was such a good atmosphere , with such lovely people that I just kept coming back." She told Fish, while she poked the centre out of the cut leaks that are destined for a nourishing pot of Cawl.
"They've gone to seed", she explained "and the centres are a bit woody."
Well I never knew that.
And it seems there are other things I didn't know, such as how Aster, Elinor's medical assistance dog has changed her life for the better.
" Aster has been with me for 2 ½ years." Elenor explains, " I am diabetic and this clever dog warns me when  I need to check my  blood. She was originally being trained as a Guide Dog but her  temperament didn't really suit that role. As an assistance dog she is worth her weight in gold."
So you have a recycled dog?
We laugh, but Eleanor goes on to tell me just what a difference Aster has made to her life and how keen she is to promote awareness about assistance dogs and to raise money for their training.
" Did you know," she tells me, "there is only one other dog  in the whole of Pembrokeshire doing the job that Aster does and that is a yellow Labrador. It's a very expensive business training these dogs, but they make such a difference to people's lives. I give talks and raise funds so that other people can enjoy the benefits that I do in having such valuable support."
She goes on to tell me that it was hard having to give up her work because of her health issues. She had had 40 years working as a community development advisor in some of the most deprived parts of Pembrokeshire. Aster has made the world of difference, but so has volunteering at Transition.
"I missed the camaraderie of work", she tells me. "I had wonderful colleagues and I missed the work itself…..supporting people to get in touch with their skills and to gain confidence."
So how is it working here at Transition café?
"It's wonderful. I have regained that friendship and sense of community and I am working with such skilled people. Never knowing what will turn up means you have to be very creative and you might be surprised at the high quality of many of our ingredients."
She goes on to tell me about Natasha's foraging and the delicious wild garlic and nettle soup that has been a big hit and how popular the salmon and veg pie is proving.
So how often are you here?
"It very much depends on my health, but that is one of the beauties of this place. If I am up to it, I will do 3 or 4 days in the week, but it's all very flexible. If I am not up to working I can still come in and have my lunch. Everyone looks after each other here."
What if people don't fancy working in the kitchen but want to get involved?
"There is so much going on and we support people to develop skills if they want to. There are jobs involving acquiring produce, front of house, cleaning, planting and caring for the window boxes, not to mention offering  skills to teach people in the community. Things like crafting with adults or children or writing, or sewing. We had someone showing us how to spin wool the other day. If someone is interested, I would say, just come along and talk to us. This is a lovely place to be."
Elenor was chatting to Snorkelfish