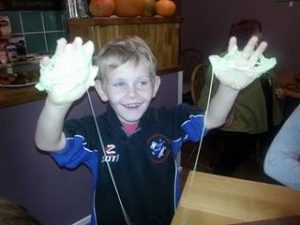 What a treat!
Fish just happened to have some young folks staying on Monday and FUNKY JUNK were in residence at Transition Café.
Fortunately the young 'uns didn't take much persuading and we were barely through the door before they were up to their armpits in goo and glitter.
Halloween was the theme…so ghosts, slime  and bug eyed bats were the order of the day.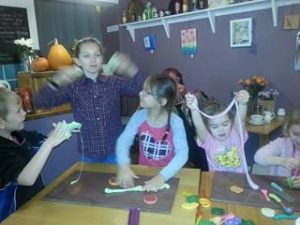 Molly spent much of the morning creating a crazy assortment of monsters from twigs, fabric and wool. As we inspected them one by one, I had to agree that she was taking a fine collection of scary creatures back to her home in Bristol.
Fionn preffered the slime, much to Snorkelfish's delight, so we settled down together with a happy noisy bunch to create a spectacular assortment of goo in a range of yeucky neon colours.
Everyone enjoyed the cakes and thanks to the lovely Funky Junk ladies Jules Rock and Melissa Pettitt, we all went home laden with scary stuff to alarm our friends and families.
Can't wait for the next one. Just need to borrow some willing kids.