What is the future for Transition Cafe and Transition Bro Gwaun?
How can you help us?
Thank you to everyone who got in touch when we first announced our Transition Cafe building was to be demolished. This demonstrated great support for the cafe and that it was a hub in our community, drawing people together. It was lovely to hear from so many people about what the cafe meant to you.
Thank you to everyone for your continued support – talking to us, writing letters, responding to the consultation process, completing a questionnaire, and most importantly visiting the cafe. Transition Cafe is now closed and we are now sharing the food we collect through Fishguard & Goodwick Community Fridge.
To find out more read all about the Community Fridge here. Even better come and use food from the fridge, share food and tell people about it! The fridge is open Monday-Saturday, opening hours vary, details on the webpage and on the Fishguard & Goodwick Community Fridge Facebook page.
Come along to TBG's Thursday drop-in and surplus food cafe, 11-3 weekly at Abergwaun Gateway Club (address and map). We also welcome new volunteers, if you'd like to join us please come along to our Thursday drop-in or contact us.
All support gratefully received!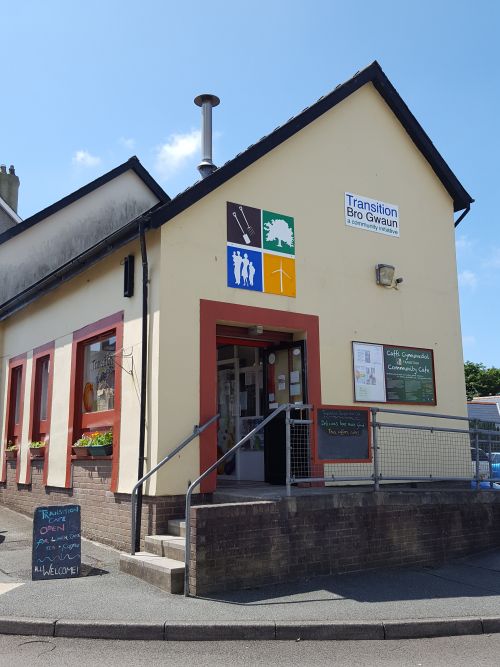 Summer 2018 update
Transition Bro Gwaun are settled into their new home at Abergwaun Gateway Club. TBG are holding regular drop-in sessions every Thursday, with activities and a surplus food cafe offering soup, snacks and refreshments – the menu varies weekly depending what is available!
PRESS RELEASE – 7 December 2017
Jointly issued by Abergwaun Gateway Club and Transition Bro Gwaun
Two well established local groups, Abergwaun Gateway Club and Transition Bro Gwaun, are working together to develop a new community resource. Based at the Gateway club building, their plans are for it to become a place where community groups will be able to meet, hold events, and develop new community projects.
Rhidian Havard, on behalf of the Gateway Club, said "At the moment the building is only being used once a week by the Gateway Club, we feel that opening up the building for use by everyone in the community irrespective of any disability, will help us improve and maintain the building for the future. We feel working with Transition Gwaun on this project will benefit everyone"
Transition Bro Gwaun trustee, Chris Samra, will miss their building by the Co-op, saying, 'It will be sad to see Transition Cafe and its lovely mural demolished, but we are really excited by this kind offer of a  new home. The Gateway building is bigger, it's accessible for people with disabilities, and will be available for community groups to use. Transition Bro Gwaun will have office and meeting space upstairs and, while we don't plan to open Transition Cafe in the building, we'll be helping to make meals for the Gateway members, and be able to provide soups and light snacks for community events.'
Transition Bro Gwaun will leave their present building before Christmas, although their successful new Community Fridge can stay there for a while longer, while they decide where it will next be sited.
Tom Latter, the founder of Transition Bro Gwaun said, 'We have a strong record of working in partnership with community organisations to develop innovative, low carbon  projects. There will be opportunities for setting up the type of events we were running at Transition café –  like  cookery workshops, seed swaps, and recycling and craft activities – but first we're going to need some help with renovation and redecoration.' If you would like to help in developing this new  venture, or might be interested in using the building, please do get in touch.  Our address will be c/o Abergwaun Gateway Club, Off Clive Road (behind the Fire Station), Fishguard SA65 9DA and  we can still be contacted on transitioncafefishguard@gmail.com or the same telephone number 01348 872019'.
Transition Cafe closing
In late 2016 we were informed that the Transition Cafe building was due to be demolished as part of the new Chimneys Link Road development in Fishguard, our position paper from December 2016 is available here. We do not oppose the road scheme as it is much needed, we support the plan to make the town centre more accessible for pedestrians and wheelchair users. However we did respond to the consultation process, which closed in September 2017, here is TBG's response paper. Additional evidence for the multiple benefits Transition Cafe brought to Fishguard are detailed in the Financial Impact Survey we conducted this summer.
Transition Cafe closed on Friday 3rd November. Due to overwhelming support from the team of volunteers the cafe is open to serve drinks & cakes 10am-2pm, Tuesdays to Fridays, until Friday 11th December. Pembrokeshire County Council have asked us to clear the building by mid-December 2017.
We have had discussions with other groups to find a new space to house Transition Cafe. Nowhere is available at present and at this stage we are no longer seeking cafe premises, we are putting our efforts into our other projects. We have opened a Community Fridge (the first in Wales!) in the foyer of the cafe building, the fridge will move to Abergwaun Gateway Club in early 2018.
What is the future for Transition Bro Gwaun?
Transition Bro Gwaun are involved with a number of projects, detailed on this website, many of these will continue. TBG are moving into office space available at Abergwaun Gateway Club. Working with Abergwaun Gateway Club and other local organisations together we will develop the building into a space which can be used by many people in the community.
The Surplus Food Project is developing and in early 2017 we secured funding for a one-year outreach project, Make a Meal of It, focused on reducing household food waste across Pembrokeshire. Household food waste is an area we can all help to reduce, the need to do so is highlighted in a recent WRAP report which found that over half of food waste generated in the UK comes from our homes.