Transition Bro Gwaun
Green Grants for businesses and groups in North Pembrokeshire.
'Instead of sitting back and wringing our hands about climate change we get our hands dirty – we set up and grow local, practical projects that the community wants, and the natural environment needs'

Transition Bro Gwaun
Transition Bro Gwaun is a grassroots organisation, connected to the global Transition Network. We set up in 2011 and are based in Fishguard & Goodwick on the Pembrokeshire Coast, South West Wales. TBG initiates and develops localised, community-based projects that make best use of resources such as food, reduce use of fossil fuels and harness renewable energy.
TBG draws volunteers from the community; they work alongside the small part-time staff team to deliver innovative projects that others often consider impossible. Our small size belies our impact: we provide evidence and information for others to follow and we have an international reputation and reach.
TBG is moving communities towards a more sustainable future, delivering imaginative, influential and innovative low carbon projects.
SUMMARY OF OUR CURRENT PROJECTS
TBG's PAST PROJECTS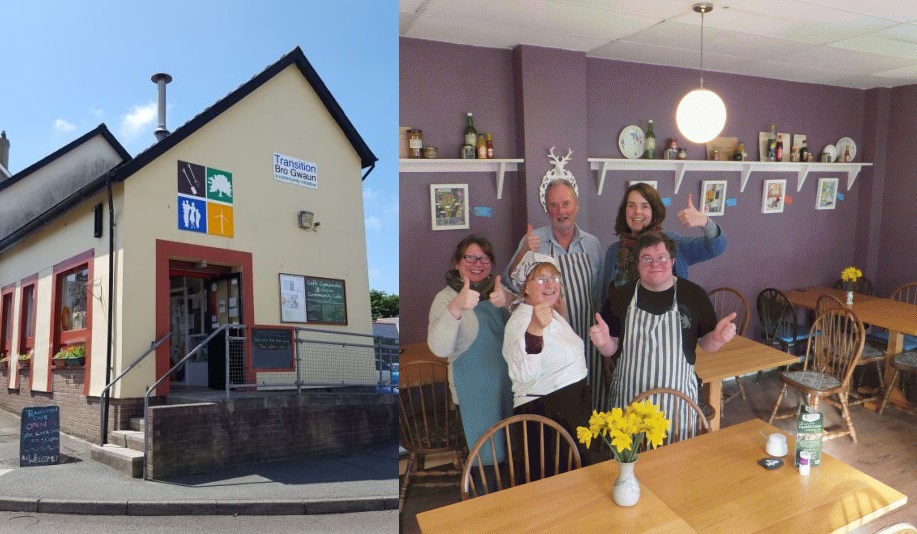 We have been running numerous other projects since 2011 that are now concluded but which have given TBG and the community many benefits and a wealth of experience and skills.
They include the probably best known of our past projects, the Transition Community Café, the first Café in Wales making use of surplus food from local businesses between 2013-2017.
To find out more about the Café and all our other past projects, choose 'Past Projects' from the top menu.
WHAT IS THE TRANSITION MOVEMENT?
Transition is an international movement of communities coming together to reimagine and rebuild our world. Since 2005, thousands of groups have emerged in villages, cities, universities and schools in more than 50 countries.
Transition is about people taking practical action together in their local area to address the big challenges they face. Between us, we are building a more equal, sustainable and democratic future.
Transition in England and Wales is supported by the Transition Together project.