Abergwaun Community Turbine
In its first twelve months of operation, turbine production was 648000 kwh. This was significantly (11%) above expectation, thanks to particularly windy weather during the winter of 2015/16. The following year proved to be less productive and in mid 2018 the turbine was out of service for some months as the gear box was repaired. As shown below, month by month there can be quite large variations in wind speed from the expected figures, probably mainly due to those figures being based on average UK figures as no very local data is available, and of course weather although seasonal is not highly predictable.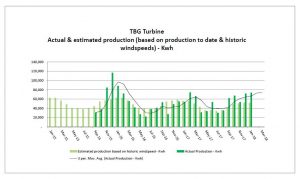 Background
In the summer of 2011, Transition Bro Gwaun's renewables group, with support from the Welsh Government's community renewables programme, Ynni'r Fro, and in partnership with Parc-y-Morfa Farms Ltd initiated a joint venture project on land adjacent to Fishguard, where the turbine now stands.
Following feasibility work, a planning application was submitted in August 2013 for a 250KW turbine with a mast height of 30m and blade diameter of 30m. Although initially refused, permission was granted on appeal in August 2014. Raising the £285,000 needed for TBG's 50% share of the project proved easier than expected, the whole amount being lent by 29 individuals and 3 local community groups within five months.
An Endurance X-29 225kW turbine was ordered from Aeolus Power in April 2015, and commissioned on 27th August. It was anticipated that the turbine will have an output of approximately 590,000 KWh per year, equivalent of powering approx 140 homes, with carbon savings of 320 tonnes of CO², as compared to fossil fuelled generation. All interest on borrowings by TBG is going to local lenders, and we appreciate the co-operation of lenders with regard to early repayment and adjustment of interest rates. As a result, we anticipate that modest funds will soon be available to support Transition Bro Gwaun's ongoing work and sustainability projects.
Local investment, the UK's Feed in Tariff policy at the time, and Welsh Government support have been key factors in making this project happen. TBG is happy to share its experience with other community groups, please contact Transition Bro Gwaun for more details.
Watch to find out more about our energy projects!
This film by Sustainable Wales is part of their 'Shine a Light' campaign, to highlight several initiatives in Wales that have developed local renewable energy projects. All the short films are available to watch here.
To download more information on ACT, please click a link below