Transition Cafe Archive
Watch these short-films to see behind the scenes at Transition Cafe, and the wonderful achievements of our volunteers and staff between June 2013 and November 2017.
Transition Cafe – Fishguard
Transition Cafe has now closed. To share the surplus food we collect we have opened a Community Fridge in the cafe foyer for everyone to share and enjoy food that would have gone to waste, for updates on opening times see here. For more information about Community Fridges see here.
Background information: Transition Cafe was a not-for-profit enterprise to reduce food waste and save carbon by stopping food going to landfill. Volunteers and staff collected perfectly good food that local businesses and people didn't want and would otherwise throw away, and turned it into affordable healthy meals and take-aways. The cafe menu changed regularly, depending on what food had been given, all the food was good to eat although some may be past its 'best before' date. Staff and volunteers received food safety and hygiene training and the cafe had a Grade 5 Food Hygiene rating.
Transition Bro Gwaun's Surplus Food Project has carbon reduction as its main aim, we think reducing food waste is everybody's concern. Other food projects, such as food banks, re-distribute longer life ambient food. Transition Cafe used these foods although we mainly made and sold meals and preserves from products with a short shelf life. These foods are those most often wasted i.e. fruit, vegetables, dairy, bakery and a small amount of meat. Food is collected from within a 15 mile radius, so keeping food miles low and ensuring that the food can be used quickly (this food is now distributed via the community fridge). And because the cooks never knew what was coming in, and at times had a very unusual range of ingredients to work with, they had to be extremely creative!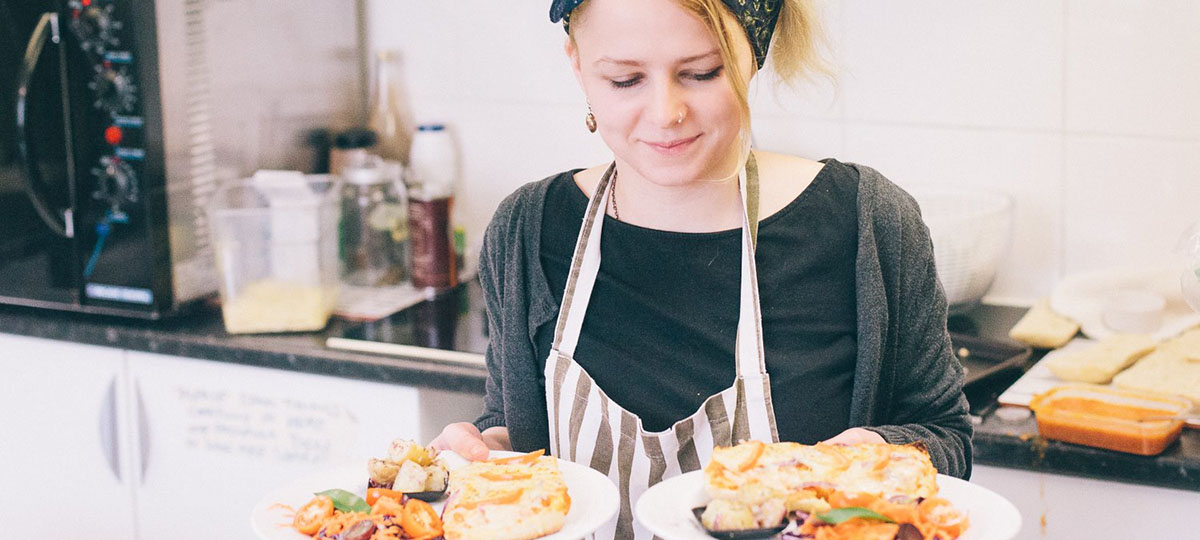 Caffi Cymunedol Transition – Abergwaun
Please see the English section above for most up-to-date information about Transition Cafe. Apologies this section has not been updated.
Nid gwneud elw yw bwriad y fenter hon ond lleihau gwastraff bwyd ac arbed carbon trwy atal bwyd rhag mynd i safleoedd tirlenwi. Mae gwirfoddolwyr a staff yn casglu bwyd sy'n hollol iawn nad yw busnesau a phobl leol eisiau – bwyd y byddent fel arall yn ei daflu i ffwrdd. Byddai'n cael ei droi i mewn i brydau bwyd fforddiadwy, iach ynghyd â bwyd cludfwyd. Mae bwydlen y caffi yn newid yn rheolaidd, yn dibynnu ar ba fwyd sydd wedi cael ei roi – mae'r bwyd i gyd yn dda i'w fwyta er efallai bydd peth wedi mynd heibio'i ddyddiad 'ar ei orau cyn'. Mae staff a gwirfoddolwyr yn cael hyfforddiant diogelwch bwyd a hylendid ac mae gan y caffi sgôr hylendid bwyd Gradd 5.
Transition Cafe News
Great review!
We were delighted to get a mention in Festival for All's review of Unearthed in a Field.
EU Refresh contest winners
Transition Surplus Food Project is a Food Waste Solution contest winner! We are delighted our project was selected by the expert jury panel from Refresh. They said, 'This grassroots initiative implements food waste reduction as an integrated part of a larger sustainability concept including behavior changes and building new community structures.' The award recognises our many supporters and customers, dedicated volunteers, directors and staff.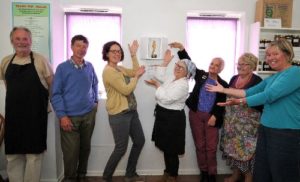 Transition Cafe Community Survey
During the summer of 2016 we conducted a community survey to find out what people knew about and thought of Transition Cafe, surplus food and food waste, read Transition Cafe Community Survey here.
Food Manifesto for Wales
We were visited by Jane Powell from The Food Manifesto for Wales, visit the Food Manifesto website here to read her article about her visit.
Setting up a Surplus Food Project?
We are happy to talk to other groups about setting up their own surplus food project through our Make a Meal of It project, we have funding from Leader and Sainsbury's, May 2017-May 2018. More info here.