Project overview
Transition Bro Gwaun's (TBG) Tidal Energy Project supports our aims to mitigate the community's impact on climate change by providing sustainable and secure energy, whilst also bringing employment, financial benefits for local investors and affordable energy for the community. Development of a community tidal flow device will be an exemplar of best practice, providing a blueprint for other communities along our coastline to utilise marine energy as a resource for future resilience.
We plan to install the first community owned and led tidal flow project in Wales, to be deployed off the coastline north of Fishguard and Goodwick. Scoping work by National Resources Wales (NRW) has identified the parameters for Environment Impact Assessment (EIA), the next key task. In addition to tidal energy generation, an important component of the project is to address constraints on grid connection. There are opportunities for local energy distribution and storage, including options such as production of hydrogen for transport, particularly at the Fishguard train and ferry terminals.
For further information read our report Tidal Project report March 2019
Project support and funding
To date TBG's Tidal Project has benefited from support from various sources:
Financial support from Pembrokeshire Coast National Park's Sustainable Development Fund and the EU LEADER programme, which is administered by Arwain Sir Benfro. Further funding and advice has been received from Welsh Government Energy Service with additional advice, reports and support provided by the SEACAMS project and Renew Wales, see links below for more information.
Partner websites
Welsh Government Energy Service (WGES) (formerly Ynni Lleol, Local Energy), run by the Energy Saving Trust (EST), provides financial and technical support to help social enterprises and SMEs across Wales to develop their own renewable energy schemes.
Marine Energy Wales (MEW) is a partnership between technology developers, the supply chain, academia and the public sector working together to establish Wales as a global leader for sustainable marine energy generation. Read MEW's Marine Energy State of the Sector Report 2019.
Community Energy Wales (CEW) is a not for profit membership organisation that has been set up to provide assistance and a voice to community groups working on energy projects in Wales. Read CEW's Community Energy State of the Sector Report 2018.
Renew Wales supports community based action on climate change across Wales.
SEACAMS1&2 aim to integrate research and business opportunities in the marine sector in Wales. A partnership between Bangor and Swansea Universities, with a wide range of expertise covering all areas of marine science, ranging from marine biology to marine physics. Swansea University have published their research case studies, including their work with TBG.
Sea Trust is a non-profit community interest company, committed to studying and raising awareness of local marine wildlife, based at the Ocean Lab building in Goodwick, Pembrokeshire. Volunteers from Sea Trust have been trained as part of a SEACAMS project to record data of marine wildlife.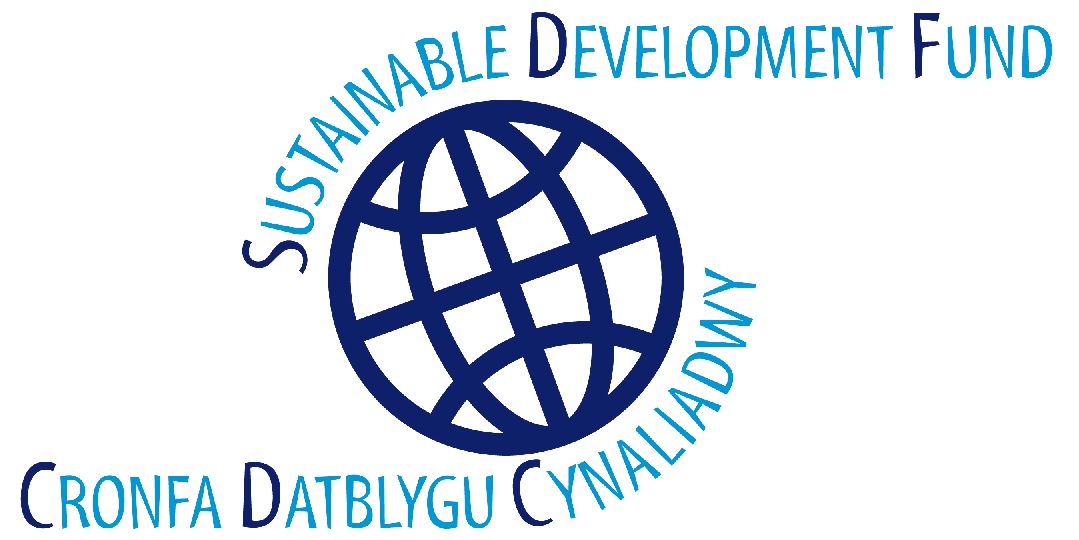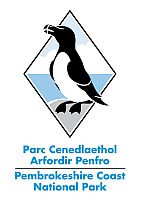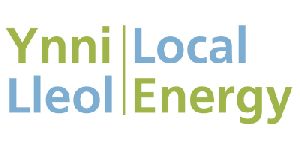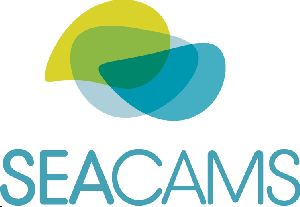 Watch to find out more about our energy projects!
Energy in the Community Event, January 2019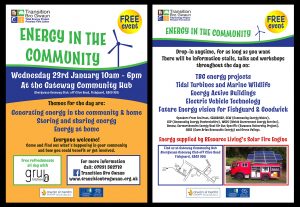 Energy in the Community report January 2019
Short films and podcasts from the day available here.
Partnership Event
'Past, Present, Future'
The project's second partnership meeting was held on Thursday 23rd November 2017 at the Fishguard Bay Hotel, attended by key partners and interested parties, including EST, Marine Energy Wales, SEACAMS, SeaTrust. The title for the day was: 'Past, Present, Future of TBG's tidal flow project'. There were a variety of presentations, covering what we have achieved over the last year, our fact finding trip to Scotland and future developments including a WEFO funding application related to a local grid for energy distribution.
Presentations included: NRW provided an overview of the scoping process TBG is undertaking for Strumble Head tidal area: Marine Energy Wales provided an overview of the developments in Wales in regards to tidal and wave, emphasising the development of the wave testing site off Pembroke: Nova Innovation provided details on their tidal devices and developments in Wales and Scotland.
Fact Finding Trip to Scotland
In September 2017 TBG's Tidal Energy Project team visited innovative Scottish community energy projects. Invited guests joined us, from Cwm Arian Renewable Energy, Ynni Llŷn and Enlli Tidal Flow, Cadwyn Clwyd and Eversholt Rail (UK). For further information please read our report TBG Scotland Visit Report
Coastal Energy Event
On 22nd March 2017 we hosted, in partnership with Renew Wales, a free Coastal Energy event at the Fishguard Bay Hotel. The aims of the event were to inform and engage communities and organisations on a range of issues covering tidal flow projects and their environmental impact assessment (EIA) processes and, alternative transport and storage/energy systems. The event attracted over 50 delegates, mostly from the community sector. Keynote speaker Jennifer Pride, Welsh Government's Head of Renewable Energy, kicked off the morning session, followed by a case study via Skype from Scotland and a panel discussion. TBG presented information about their new community tidal energy project funded by Arwain Sir Benfro's LEADER fund and the Pembrokeshire Coast National Park Authority's Sustainable Development Fund. The afternoon session consisted of a variety of energy-themed workshops from providers including, Cadwyn Clwyd, Cilgwyn Community, Sea Trust, Marine Space and Swansea Bay City Region representatives.
Partner Launch Meeting
The project concept has been developed over a number of years but is still in its early stages, however with funding secured a partnership launch took place on 24th November, 2016. This exciting venture is supported by a number of key partners including Local Energy, EST's community renewable programme, Marine Energy Wales (also Marine Energy Pembrokeshire), Renew Wales and SEACAMS based at Bangor, Aberystwyth and Swansea Universities.