Funding projects that combat the climate and nature crisis
We are launching our 3rd round of Grants for 2024
Transition Bro Gwaun's Community Wind Turbine has been producing clean, green energy since August 2015.
Having repaid the majority of the establishment loans, we are now using the income for community and environmental benefit.
We give grants to businesses and community groups across North Pembrokeshire to set up practical projects that will help move their community towards a greener, more sustainable future.
In 2022 we awarded just over £15,000 to seven projects, with grants between £500 and £8,000:
Active Travel West Wales for their Bike Buddies West Wales project.
Ffynnone Community Resilience for their Learn it & return it training project.
Grwp Garddio Brynberian Garden Group who ran a Saving Pollinators Day/Dydd Achub Peillwyr.
Fishguard Sports AFC to install solar panels on their clubhouse as part of their Tregroes Park development.
Nevern Valley Veg / Llysiau Cwm Nyfer to install a solar powered vegetable irrigation scheme.
Ysgol Bro Gwaun for their Increasing Biodiversity and Bees project.
Ysgol Glannau Gwaun for their Sow, Grow and Eat project.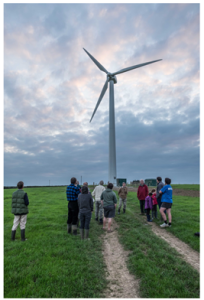 In 2023 we were able to make a further £42,000 available to seven more projects:
Sea Trust Wales to part fund the installation of solar panels on the Ocean Lab roof and to produce a display on solar technology
Letterston Memorial Hall to part fund the installation of an air source heat pump heating system
Heartwood Horticulture to produce peat free compost and biochar to sell to the local community
Fishguard Sports AFC to develop a rainwater harvesting system to reduce reliance on metered mains water
Wyld Soul Kitchen to promote the ethos of an energy efficient, sustainable, local food culture through a catering business
Fishguard and Goodwick Rugby Club to install solar panels on their clubhouse
Trees for Resilience to develop a low impact, nature based, tree nursery propagating and selling trees suited to building climate resilience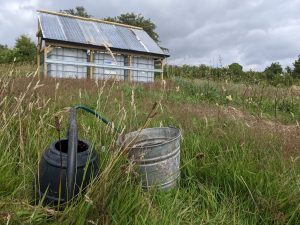 GRANTS FOR 2024
Applications from organisations and businesses who, as yet, have had little experience in developing climate action or biodiversity projects will be particularly welcome.
To launch the 2024 green grants, we will be holding a CLIMATE FUND FAIR on Thursday 5th October from 4 – 7pm at the Fishguard Rugby Club in West Street, Fishguard.
This drop-in event will provide information about the Community Climate Fund – what it does and how to apply – and there will be stands and discussion groups for people to share their experiences of how to plan, develop and run projects. Click here for more info.
WHO CAN APPLY
The fund is open to organisations within the North Pembrokeshire area, with priority given to those based within a 10 mile radius of Fishguard. Grant applications are welcomed from:
schools
youth groups
community councils
sports and activity groups
small local businesses
young people's initiatives
faith groups
environmental groups
or just groups of people with a great idea and entrepreneurial drive.
Applicants need not be experts in climate or environmental issues – TBG can help applicants obtain specialist information and advice.
The fund is to support projects in North Pembrokeshire, anywhere north of Newgale – Efailwen.
WHAT CAN THE GRANT BE SPENT ON?
The fund will provide grants up to 100% of project costs, and can be for capital, revenue and core expenditure. The grants can be used to develop practical activity that aids de-carbonisation and/or biodiversity locally e.g.:
by re-wilding an area
growing and selling more local food
reducing transport miles/emissions
promoting recycling, repairing and repurposing
using greener energy and reducing energy waste
or simply by making a group's present activities more sustainable.
Preference will be given to initiatives that are visible to the community, engage local people, and highlight the need for urgent action on climate change. It will be important to demonstrate practical ways in which change can be achieved by local communities for both economic and environmental benefit.
HOW TO FIND OUT MORE
For information about the fund and application process
check this webpage for updates
check our Transition Bro Gwaun Facebook page for updates
invite us to give a presentation to your group/business
TBG Community Climate Fund working group are Tom Latter, Chris Samra, Kate Hawkins, Sian Vaughan, Sue Mackie and Friederike Schmidt.
HOW TO APPLY
Expression of Interest (EOI) form is available here.
Deadline for EOI is the 20 November 2023.
Applications will be encouraged after the review of the EOI's.
ADDITIONAL INFORMATION
RENEWABLE ENERGY
If you're interested in setting up your own renewable energy system we have created a brief summary of support and resources:
CONTRIBUTIONS TO TBG's COMMUNITY CLIMATE FUND
We hope our fund will support a wide range of projects over the next few years and that we'll increasingly see carbon reduction and biodiversity initiatives grow and prosper within our community.
If other organisations or local people would like to join with us in supporting/funding such initiatives we would be delighted to hear from you.