Community Climate Fund
Supporting  projects that combat the climate and nature crisis
We are pleased to announce our Community Climate Fund.  
Our community wind turbine has been producing clean, green energy for the past 7 years and, having repaid the majority of the establishment loans, we can now begin using the income for community and environmental benefit.
We'll be giving grants to local groups who are concerned about climate change and want to set up practical projects to help move themselves and their community towards a greener, safer future. 
Applications for the first round of funding has now closed. We anticipate opening a second round in autumn 2022.
Read on for more information about the fund and projects which have received funding.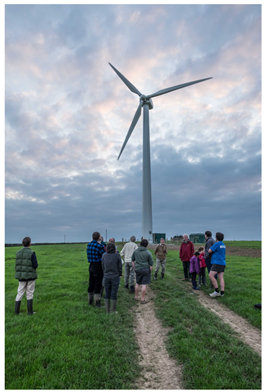 Applications and successful projects in the pilot round, spring 2022
We were impressed with the quality and number of applications we received in our first round of the funding. We had ten applications and of these nine met the funding criteria and were shortlisted for assessment by our independant panel of local people.
Seven applicants have received funding, these are:
Active Travel West Wales with their Bike Buddies West Wales project.
Ffynnone Community Resilience with their Learn it & return it project.
Grwp Garddio Brynberian Garden Group who will be running a Saving Pollinators Day/Dydd Achub Peillwyr.
Fishguard Sports AFC as part of their Tregroes Park development.
Nevern Valley Veg / Llysiau Cwm Nyfer to install their Nevern Valley Veg Irrigation.
Ysgol Bro Gwaun with their Increasing Biodiversity and Bees project.
Ysgol Glannau Gwaun with their Sow, grow and eat project.
As the projects and activities progress we will share their updates.
WHO CAN APPLY

This fund is open to groups of local people within the North Pembrokeshire area, with priority given to those based within a 10 mile radius of Fishguard and Goodwick. Grant applications will be welcomed from a wide range of groups, including:
schools
youth groups
community councils
sports and activity groups
small local businesses
young people's initiatives
faith groups
environmental groups
or just groups of people with a great idea and entrepreneurial drive.
Applicants need not be experts in climate or environmental issues – TBG can help applicants obtain specialist information and advice. If a group is not constituted, they can still apply either through the Community Forum or by constituting if successful.
The fund is to support projects in North Pembrokeshire, anywhere north of Newgale – Efailwen.
You can use the map below to help see if your area is eligible. If you're not sure please get in touch.
WHAT CAN THE GRANT BE SPENT ON?
The fund will provide grants up to 100% of project costs, and can be for capital, revenue and core expenditure.
The grants can be used to develop any practical activity, however big or small, that aids de-carbonisation and biodiversity locally e.g.:
by re-wilding an area
growing and selling more local food
reducing transport miles/emissions
promoting recycling, repairing and repurposing
using greener energy and reducing energy waste
or simply by making a group's present activities more sustainable.
Preference will be given to initiatives that are visible to the community, engage local people, and highlight the need for urgent action on climate change. It will be important to demonstrate practical ways in which change can be achieved by local communities for both economic and environmental benefit. 
HOW TO FIND OUT MORE
For information about the fund and application process,
invite us to give a presentation to your group
If you have an idea for a project and would like to discuss it with us, or if you need advice e.g. on completing the application form, please email brief details to transitionbrogwaun@phonecoop.coop and one of us will contact you to discuss your enquiry.
TBG Community Climate Fund working group are Tom Latter, Chris Samra, Kate Hawkins and Jasmine Dale.
TO APPLY:
APPLICATIONS WILL REOPEN LATER IN 2022
RENEWABLE ENERGY
If you're interested in setting up your own renewable energy system we have created a brief summary of support and resources:
CONTRIBUTIONS TO TBG's COMMUNITY CLIMATE FUND
We hope our fund will support a wide range of projects over the next few years and that we'll increasingly see carbon reduction and biodiversity initiatives grow and prosper within our community.
If other organisations or local people would like to join with us in supporting/funding such initiatives we would be delighted to hear from you.
PILOT SCHEME 2022 and FULL SCHEME 2023
In the pilot for this funding, just over £10,000 has been awarded to seven projects, with grants between £500 and £5,000. Applications were submitted by 1st April 2022, and were assessed and selected by an independently chaired panel of local people.
From 2023, we anticipate an annual income from the wind turbine of approximately £40,000 and the allocation of the majority of this to the Community Climate fund. We shall develop the scheme using experience from the pilot and be able to offer more and some larger grants.
APPLICATION FORM
The application process is currently closed.