Fishguard and Goodwick Community Fridge was and is the first community fridge in Wales and has been running since 2017
We are currently looking for new volunteers to join our dedicated team
UPDATE: Since the pandemic we have re-arranged things in the Community Fridge. The larger part of the shed is now used for storage and the food is kept in the pantry – at the far end of the fridge, next to the herb garden.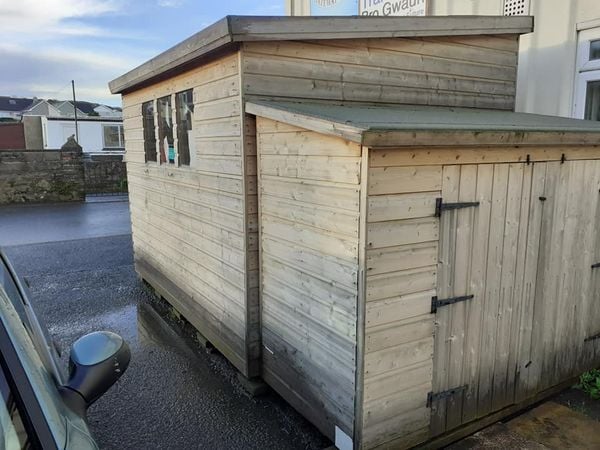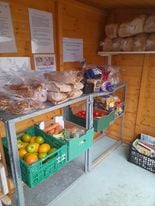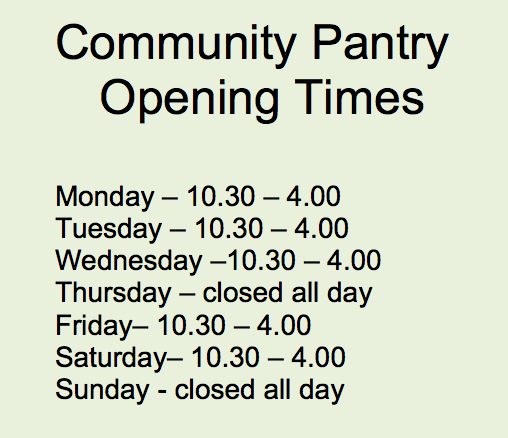 Fishguard & Goodwick Community Fridge is a purpose built shed next to the Gateway Community Hub. This innovative resource is for everyone and the aim is to make use of food that would otherwise go to waste. The shed has a fridge and shelving area to store food safely and the food is available for anyone to take. Follow our Facebook page to get updates about what food we have in stock. This project is part of the national Community Fridge Network which is led by the environmental charity HUBBUB.
For updates check the Fishguard & Goodwick Community Fridge Facebook page:
https://www.facebook.com/fandgcommunityfridge
Download our project report to read all about how we set up our fridge:
Who can use the Community Fridge?
Everyone! By using the Community Fridge you are helping stop good food going in the bin. The more people that make use of it, the more we are saving valuable resources from being wasted.
Where does the food in the Community Fridge come from?
The food in the fridge and the shelving area has been donated by registered food businesses or members of the public. It has all been donated to stop it going to waste. The Community Fridge acts as hub for the donated food, enabling it to be made accessible to anyone who can make use of it. To ensure excellent food safety and quality we have strict guidance on what can be donated:
We can accept (examples):
Fruit
Vegetables
Bakery products that do not contain cream
Non-dairy drinks
Unopened Salad or Vegetable packets
Unopened Non-perishables items (tins, pasta, jars etc)
Fresh Eggs (traceable, clean, lion stamped with a use by date)
Unopened pastaurised milk, cheese and yoghurt
Unopened fruit juices
What we can't accept:
Food beyond the USE BY date
Cooked food from uncertified sources
No raw meat, raw fish or cooked rice
Unpasteurised Milk or products containing this
Raw milk cheese
Pates
Beansprouts
Any items containing the above ingredients
How do I know the food is safe to eat?
The Fishguard & Goodwick Community Fridge has a 5 Star Food Hygiene rating from the local Environmental Health Officer. A team of trained volunteers are responsible for the daily checking of food, cleaning and temperature monitoring of the fridge. They maintain fridge hygiene standards and ensure unsafe food is disposed of responsibly. The fridge will never have produce that is not good to eat or that has past its use-by date. Clear, easy to follow guidelines inform volunteers and users on how to use the fridge and what items can and cannot go in.
If you notice anything amiss when you visit the community fridge please let us know, to help us sort it asap. Email Lesley, foodsaverchampion[at]gmail.com or, in an emergency please phone Tom, 07831582718.
Why are Community Fridges needed
The Waste and Resource Action Programme (WRAP) estimate that 61% of food waste in the UK could be avoided and that the average family in the UK throws away £470 worth of edible food each year. A Community Fridge is a creative tool to help combat this growing issue. It provides suppliers with the opportunity to share surplus food with the community and stop food being wasted. Across the UK Community Fridges have already helped families and individuals save money, stopped perfectly edible food going to waste and built connections within communities.
Volunteer with the fridge
The fridge is run by a team of volunteers, with people needed to open and close the pantry and collect food. For more information contact us or send a message via Facebook.
Where can I get more information?
Across the UK the buzz about Community Fridges is growing rapidly. They are great way to build connections in your local community and help reduce good food going to landfill. Below are a number of links where you can access more information:
Learn more about HUBBUB's Community Fridge Network. This network has lots of inspiring information and guidance about Community Fridges and maps Community Fridges across the UK.
If you would like advice or more information about setting up a Community Fridge in Pembrokeshire, or if you're interested in volunteering with the Fishguard & Goodwick Community Fridge, please contact us.
Funding and support
To cover ongoing costs (such as maintenance, cleaning materials, electricity bills) we are seeking donations. If you'd like to make a donation you can do so in person via the donation box at the Community Fridge. All donations received with thanks!
Another way to share surplus food
OLIO is a free app connecting people with their neighbours and with local shops so surplus food and other items can be shared, not thrown away. You can download it on the links below:
iOS: http://apple.co/215l6LQ
Android: http://bit.ly/1U4gm7g
Usual Opening Hours
Monday: 10:30 – 16:00
Tuesday: 10:30 – 16:00
Wednesday: 10:30 – 16:00
Thursday: CLOSED
Friday: 10:30 – 16:00
Saturday: 10:30 – 16:00
Sunday: CLOSED

The Fishguard & Goodwick Community Fridge was set up as part of our Make a Meal of It project, with funding from Sainsbury's Waste less, Save more and the EU LEADER fund.