Our Make a Meal of It project ran from April 2017 – June 2018, working across Pembrokeshire, sharing our experience of using surplus food in a catering business and also at home. The project was in part inspired by the Transition Cafe Community Survey we conducted in 2016 and also following our success at the EU Refresh Food Waste Solution Contest. We saw there was a need to take the message of reducing food waste and making use of surplus food to a wider audience.
We offered cookery workshops, gave talks and attended events with food waste reduction games and activities, we developed and piloted a school resource (see below) and set up the first Community Fridge in Wales! To find out more read our Make a Meal of It project report.
Pupils making a meal of it!
Wonder what all the fuss is about? Think you're pretty good with waste? Think maybe you could do more?
We've developed a resource for schools and children to ask questions about food waste and find their own solutions to reduce it. The Make a Meal of It Mission resource pack is aimed at primary school pupils in key stage 2 (aged 7-11 years old) in Pembrokeshire. However, the pack contains a wealth of materials, ideas and links and many of the resources may be suitable for other ages and for non-school settings, some statistics relate to Pembrokeshire. Please see below to download.
We piloted the Make a Meal of It Mission resource pack in two schools. At Narberth School pupils compiled a Make a Meal of It Mission factfile about food waste for their Eco Committee, read the case study of their project. Pupils from Stepaside school have made some short-films about what they have learnt:
School resources
Download the resources here:
Make a Meal of It Mission resource pack (English)
Make a Meal of It worksheets (English)
Pecyn adnoddau Cenhadaeth Gwneud yn Fawr on Bwyd (Cymraeg)
Teflenni gwaith Cenhadaeth Gwneud yn Fawr o'n Bwyd (Cymraeg)
MaMoI Making a Film workshop (English only)
Sainsbury's Fab Food / Bwyd Gwych resource packs contain many useful resources, which compliment the Make a Meal of It Mission resource pack / Pecyn adnoddau Cenhadaeth Gwneud yn Fawr on Bwyd:
Fab Food (English)
Bwyd Gwych (Cymraeg)
What's the problem with food waste?
Amounts of food waste arising in the UK by sector (total post-farm-gate = ca. 10 Mt), WRAP, 2017
Food waste is increasingly recognised as a problem in the UK and globally as a third of food produced worldwide is wasted. In developed economies most food is wasted by consumers, food manufacturers and retailers (as the Waste and Resources Action Programme (WRAP) have found in the UK, whilst in developing economies it is often wasted due to problems harvesting and storing food.
Uneaten food is a waste of the land, energy, water and other resources that are required in production, packaging, storage and transportation. In addition, food disposed in landfill releases damaging greenhouse gases. As the global population grows and climate change affects crops and harvests we all need to take responsibility for our use of food.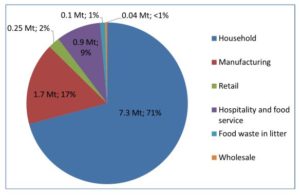 By reducing food waste we will make a positive impact on greenhouse gas emissions. We can all make changes to the way we buy, store, cook and dispose of food. Globally there is enough food produced each year to feed everyone, if we all commit to small changes at home we can influence the food supply chain to ensure everyone gets what they need.
Welsh Government have a number strategies aimed at reducing waste. Targets to reduce the amount of waste sent to landfill are more ambitious than many other countries – with a statutory target of 70% recycling of waste by 2024-25 and zero waste in Wales by 2050. Pembrokeshire County Council are well on their way to meeting this target with 66% of municipal waste reused, recycled or composted last year.
WRAP found that in Wales 48% of household food waste is disposed of in Local Authority food waste collections compared to 13.1% UK average. With Make a Meal of It we are encouraging people to use their compost bin or food waste collections so that no food waste ends up polluting landfill sites. Advice about food waste collections in Pembrokeshire is available here.
Useful resources
Food Is For Eating – beautifully illustrated infographic about food production, use and waste around the world by Angela Morelli
The Water We Eat – beautifully illustrated infographic of water used in food production by Angela Morelli
Waste and Resources Action Programme (WRAP) – data about UK food waste and expert advice to reduce food waste for businesses, organisations and local authorities
Love Food Hate Waste (LFHW) – consumer advice for making the most of food and reducing food waste
EU Refresh reports – an EU wide initiative to find solutions to food waste and surplus food along the food chain
Champions 12.3 – a coalition of influential partners working towards Sustainable Development Goal 12.3
$1 invested in reducing food waste saves $14 for businesses – report from Champions 12.3 about the cost implications of food waste
Publicity
We sometimes make the papers, here are articles we've seen. Do let us know if we feature elsewhere and we'll add a link:
Community Fridge Hailed a Success
Making a meal of it thanks to EU Leader and Sainsbury's funding at Fishguard's Transition Cafe
Sun Gods shine on a very chilled Wild West Wales
Make a Meal of It funding
We are very pleased to have secured EU LEADER funding from Arwain Sir Benfro and from Sainsbury's Waste less, Save more campaign. This funding enables us to work across Pembrokeshire developing the Make a Meal of It project to influence attitudes and behaviours to reduce food waste.